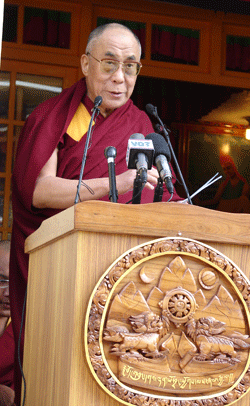 Dharamshala: "The stability in Tibet concerns the stability of the country, and the safety in Tibet concerns the safety of the country", as stated by President Hu Jintao on 6 March 2008 conforms to reality", said His Holiness the Dalai Lama, while addressing the 49th anniversary of the Tibetan National Uprising Day in Dharamshala today.
His Holiness added he is looking forward to the implementation of President Hu's statement that the Chinese leadership must ensure the well-being of Tibetans, improve the work related to religions and ethnic groups, and maintain social harmony and stability.
His Holiness said a comprehensive approach must be adopted resolve the problem of Tibet, which is intrinsically linked with many issues: politics, the nature of society, law, human rights, religion, culture, the identity of a people, the economy and the state of the natural environment.
His Holiness expressed concern over the increased repression and brutality in Tibet and lack of concrete result on the fundamental issue of Tibet, despite six rounds of dialogue held between his envoys and the Chinese leadership. "In spite of these unfortunate developments, my stand and determination to pursue the Middle-Way policy and to continue our dialogue with Chinese government remain unchanged," His Holiness added.
Expressing his support for the Beijing 2008 Olympic Games, His Holiness urged that China should prove herself a good host in upholding the principles of freedom of speech, freedom of expression, equality and friendship.
His Holiness urged the Chinese government to bring an immediate halt to policies of population transfer – which results in native Tibetans being reduced to an insignificant minority – and the language, customs and traditions of Tibet, which reflect the true nature and identity of the Tibetan people, are gradually fading away.