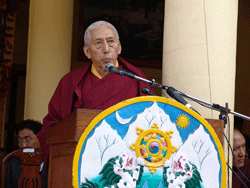 The Kashag of the Central Tibetan Administration urged the Chinese government to implement the conditions for National Regional Autonomy as set forth in the constitution of the People?s Republic of China by granting a meaningful self-rule for all Tibetans under a single administration, which is in line with the legitimate rights of all the minority nationalities.
"The Kashag will not change the current policy of the Middle-Way Approach, irrespective of whether the dialogue with the present leadership of the People's Republic of China will lead to any solution on the issue of Tibet or not. We are firmly committed to the continuance of the ongoing dialogue process with the Chinese government," Kalon Tripa Samdhong Rinpoche said in his address.
Lauding the decision to shun the propitiation of Shugden by most of the Gelug monastic institutions, including the three Great Monastic Seats, the Kashag, nevertheless, urged the monastic world that they should not be negligent on this matter in the future as well.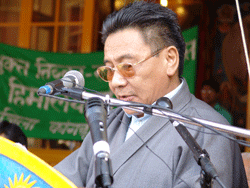 In his address, Mr Kama Chophel, the speaker of the Tibetan Parliament-in-Exile, expressed concern over repression of religious freedom in Tibet, and the series of vilification campaign set against His Holiness the Dalai Lama under the pretext of Chinese government?s patriotic re-education campaign.
The speaker called on Chinese government to put an immediate halt to the patriotic re-education campaign, and further urged for the immediate release of the 11th Panchen Lama Gendun Choekyi Nyima, and all the Tibetan political prisoners.