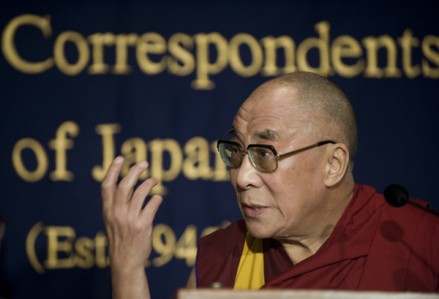 Correspondent's Club of Japan on Saturday, 31 Oct. 2009. His Holiness is on his 12th visit to the island nation. Photo by Tenzin Choejor
Tokyo, Japan: Interacting with the media on his second day in Japan, His Holiness the Dalai Lama strongly appealed to the international community and especially to the media to go to China and Tibet and investigate the reality of the situation.
"If you find out that what China's Government is saying about Tibet is correct, then I will cease all my activities and apologise to them," said His Holiness this morning at the Foreign Correspondent's Club of Japan.
In his initial address to the media, His Holiness the Dalai Lama spoke in detail on his two main commitments in life of promoting human values and religious harmony.
"The inner values of a mother's love and affection for her child does not come from religious faith or a constitution – it is our biological, human nature," said His Holiness to rapturous applause from the international media contingent.
Responding to a question, His Holiness expressed full support for Japan's Prime Minister Yukio Hatoyama's proposed programme of basing his Government's policies on the 'happiness' of the Japanese people.
"The key thing is education," replied His Holiness. "Along with the development of the brain, modern education should also be able to develop warm heartedness and inner values."
While extolling the Chinese President Hu Jintao's call for building a harmonious society, His Holiness said that harmony cannot come from the 'guns of PLA' but only from trust and faith. Speaking directly to a correspondent from a Chinese news agency, His Holiness said that the over 1 billion people of China have the right to correct information and not just communist propaganda.
To a question regarding the controversy surrounding His Holiness's planned visit to India's north-eastern state of Arunachal Pradesh later this month, His Holiness expressed his 'surprise' at China's objections.
"In 1962 during the India-China war, the People's Liberation Army already occupied all these areas but they announced a unilateral cease fire and withdrew, accepting the current international boundary," said His Holiness.
His Holiness also recollected his deep 'emotional attachment' with the land of Arunachal Pradesh being the transit place from where His Holiness entered India during his escape in 1959, bringing him much 'relief' from the 'fearful' journey.
Dismissing the constant objections from the Chinese Government during his frequent visits outside his exile home of India, His Holiness the Dalai Lama said that all his visits are 'non-political in nature.'
His Holiness is scheduled to give public teachings on 'The Three Principle Paths and Generating the Altruistic Mind (lamtso namsum and semkyi)' later in the afternoon.
-Report filed by Sherab Woeser, Editor of Tibetan Bulletin