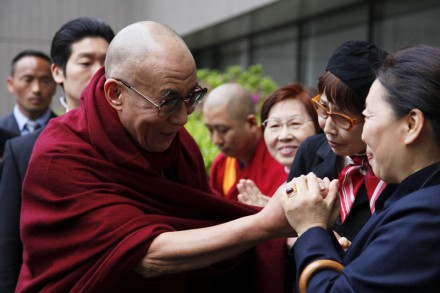 His Holiness the Dalai Lama arriving in Tokyo, Japan, on 28 April 2011, on his way to the US for
TOKYO: After a brief rest His Holiness offered special prayers in private at Gokokuji, a Japanese Buddhist temple in Tokyo for an hour. The prayer is dedicated to help prevent recurrence of disasters like the recent devastating earthquake and tsunami.
Tomorrow there will be a public memorial prayer service in remembrance of the victims of the tragic earthquake and tsunami that struck Japan last month. Coincidentally this mass prayer meeting happens to be on the 49th day, which according to Buddhist tradition is the end of formal mourning period.
On 30 April, His Holiness the Dalai Lama will leave for the United States on a two-week visit.