Budapest: His Holiness the Dalai Lama has expressed hope that he would return to Tibet, and called on the Chinese leadership to start political liberalisation and find a solution in the interest of China and the Tibetan people.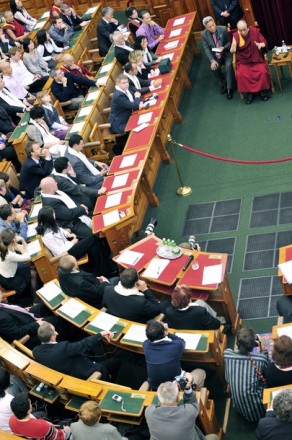 His Holiness speaks in the Upper Hall of the parliament building in Budapest on 20 September during his meeting with representatives of the Hungarian Parliament, high-ranking officials and other invited guests/Getty Images
"I'm an optimist, I think I will return to Tibet with a Chinese passport," His Holiness said Monday in his address to the Hungarian parliament in Budapest, which accorded him a red carpet reception. He was welcomed by president of the Hungarian Parliament's Tibet Group and the deputy leader of the LMP, the new political party in Hungary.
"The Chinese leaders sooner or later have to realise that they must start some sort of political liberalisation, or otherwise they will lose the world's trust," His Holiness the Dalai Lama told Hungarian MPs.
Reiterating that "suppression is not the solution to the Tibet problem", His Holiness the Dalai Lama said "a solution must be found that is good for both China and Tibet".
His Holiness reaffirmed that "the Tibetans are not seeking separation from China but a mutually beneficial solution to the Tibetan issue through genuine autonomy".
His Holiness the Dalai Lama encouraged the Hungarian MPs to visit Tibet to see the situation for themselves.
Ms Szabo Timea, the deputy leader of the LMP said: "We are here to express our full support for the Tibetan causes. We'll support the regional national autonomy to preserve Tibetan culture and identity dating back to thousands of years."
The LMP also expresses great concern about Tibet's environment and the impacts of climate change, said Ms Timea, who is also deputy chair of Parliamentary Committee of Human Rights.
The chairperson of the Parliament's Human Rights Committee also called on His Holiness the Dalai Lama.In the afternoon, His Holiness the Dalai Lama addressed the students and members of the faculty of Central European University.  The University has students from 100 countries and faculty from 40 countries.