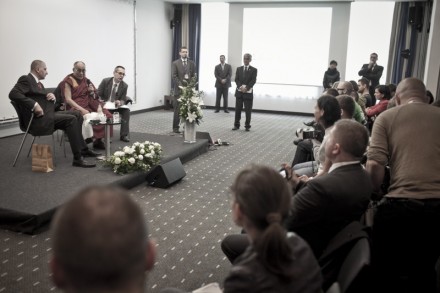 His Holiness the Dalai Lama and Mayor of Wroclaw at press conference
23 Sept, Wroclaw: "Solidarity" was the main title and main topic of the present visit of His Holiness the Dalai Lama in Wroclaw, Poland.
His Holiness the Dalai Lama's second day visit to Wroclaw began with meeting with journalists.
 Journalists asked questions on different aspects and dimensions of "solidarity" to His Holiness – which His Holiness addressed through the frames of His Holiness' three commitments in life: to the promotion of universal human values, inter-religious harmony, and the aspirations and rights of Tibetan people.
Later, His Holiness met with high school students from Wroclaw. His Holiness talked with the students on the need of developing warm heart based on knowledge, intellect and professional skills in order to turn new century into the age of dialogue, peace and solidarity.
His Holiness answered several complicated questions ranging from the problems of loneliness in a modern, developed world to philosophical subtleties of the notion of "nirvana".
Just before leaving for India, His Holiness met with the leaders of different religious traditions.
Solidarity spontaneously accompanied His Holiness from the first till last minute in Wroclaw filled with Tibetan flags, flowers and cheering crowds wherever there was a chance to catch a glimpse of His Holiness even for few a second.