DHARAMSHALA: His Holiness the Dalai Lama has said he is eager visit Russia as wished by many Buddhists in the Russian Federation and also due to the growing interests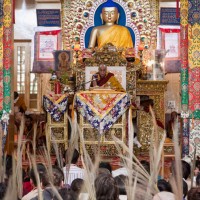 His Holiness the Dalai Lama begins a three-day sermon at the request of Russian Buddhists in Dharamsala,
in Tibetan religion and culture among the white Russians.
"Many Buddhists in Russia always want me to come there. I am very eager to visit old and new friends in Russia, and share my thoughts with the people," His Holiness said during a press conference with a group of around 27 Russian journalists at his residence on Monday. Telo Rinpoche, the spiritual head of the Buddhist Republic of Kalmykia, attended the conference.
His Holiness said he would visit if the Russian government shows green signal.
His Holiness said he had the opportunity to spend times in the USSR since 1979 and also during the period of Boris Yeltsin. But in recent times, even transit is difficult, he added.
Reminiscing about Tibet's past ties with Russia, he said we maintained some contact with the Russian Czar and the 13th Dalai Lama received some pocket watches as gifts from the Czar which he kept in his room in Lhasa. And some historians believe that Tibetans maintained relationship with the Czar and Russian government through a Russian monk named Ngawang Dorjee (also known as Agvan Dorjiev), His Holiness said.
The Buddhist communities in the Russian Federation such as Kalmykia, Tuva and Buryat have been following Buddhism for centuries on. During my teenage days, some top scholars from these Buddhist communities came to Tibet," His Holiness said.
So traditionally Tibet had some very close connection with Russia, he added.
Russia is a very important nation, a bridge between Asia and Europe. Given its rich natural resources, Russia can play a role, His Holiness said.
Replying to question by a journalist from the Republic of Kalmykia, His Holiness said the very name Dalai Lama came from Mongolia, so we had some connection with the people of Kalmykia. Since the Kalmyks have preserved the Buddhist tradition, it is my duty to serve them. 
So far, many monk and lay students – over 240 students from Buryat, Tuva and Kalmykia, 5,000 from the Himalayan regions – are undertaking religious studies in the Tibetan refugee community. Out of 120 students from Buryat, some 17 students have reached the academic position to attain Geshe Degree. Some of the graduates who studied in the Tibetan refugee institutions have returned to their native places to build schools, serve Buddhism by working in monasteries and engage in social services. 
To a request from the Kalmyk journalist for His Holiness the Dalai Lama's message to Kalmykia on Gaden Ngamchoe, His Holiness extended his special greetings to the people of Kalmykia on the death anniversary on Je Tsongkhapa, which the Kalmyks traditionally observe as New Year. Je Tsongkhapa, the founder of Gelug School of Tibetan Buddhism, attained parinirvana on 25th day of 10th lunar month.
His Holiness called on the Kalmyks to study both science and traditional education. "A fuller knowledge of these will help develop full conviction to study Buddha dharma through investigation and experiment in a scientific approach. Many scientists are eager to learn from Buddhists on how the study of human emotions such as love and compassion could bring positive changes in the world," he said.
His Holiness offered through oral transmission a set of prayers of Lord Buddha and Je Tsongkhapa to the people of Kalmykia.
The visiting journalists also met the speaker of the Tibetan Parliament-in-Exile and Kalon Tripa Prof Samdhong Rinpoche on the same day.