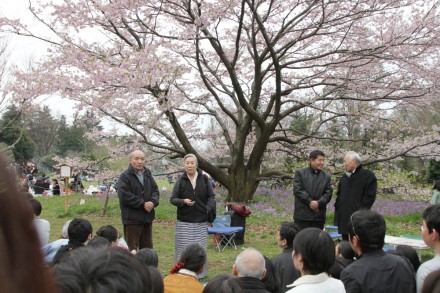 From right: Kalon Tempa Tsering, Representative Lhakpa Tshoko and Kasur Jetsun Pema participating in the Japanese Flower Festival in Tokyo
Tokyo: Kalon Tempa Tsering and Kasur Jetsun Pema, who are in Tokyo on a fortnight visit organised by Tibet supporters, met a group of Chinese intellectuals on 4 April.
It was an informal meeting aimed to facilitate free exchange of ideas in resolving the issue of Tibet. Kalon Tempa Tsering, who is the His Holiness the Dalai Lama's representative at New Delhi Bureau, greeted the gathering of Chinese scholars and updated them on the current status of Sino-Tibetan dialogue and the Chinese leadership's indifferent attitude towards the 'Memorandum on genuine autonomy for the Tibetan people', which was submitted to them by the envoys of His Holiness the Dalai Lama. Kalon Tempa Tsering explained the gist of the nature of autonomy that Tibetans are hoping for.
The Chinese groups, consisting of university professors and writers, spoke at individual as well as societal level. They expressed respect and appreciation to the effort of His Holiness the Dalai Lama in resolving Tibetan issue peacefully and within the framework of Chinese constitution. They agreed that past is past and the two sides need to work on the future, but they expressed doubt about the direction of Tibet issue after Dalai Lama. They sought clarification on certain issues like "Greater Tibet, High-level autonomy".
Kalon Tempa Tsering clarified that in the memorandum submitted by Tibetan side, nothing like "Greater Tibet or High-level Autonomy" is demanded. "We worked meticulously to keep our demand within the framework of the Chinese constitution," he added.
The participants expressed that such informal discussions should be organised whenever possible so that misunderstanding, in any forms, could be clarified and combined effort could be made to resolve the differences.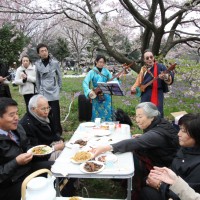 flash0704102158
The participants greeted and interacted openly, many expressed happiness to see people from four major Asian countries sitting together and sharing moment of peace and understanding under Sakura [cherry blossom] trees. Kalon Tempa Tsering and Kasur Jetsun Pema interacted with the participants and took photos with them.
Leaving early from the picnic event, Kasur Jetsun Pema interacted with some 80 students of elementary to High school level and their parents from Hajime Juku School of Odawara and shared her views with the young children and their parents on 'Value Education' based on love and compassion at Koganei Shokokaikan Hall.
Kalon Tempa Tsering and Kasur Jetsun Pema will leave for Okinawa tomorrow, where similar talks and discussion events are planned to address the Okinawan people about Tibet issue and Tibetan education system. It was reported that interest in Tibet issue and Tibetan culture has surged greatly in the island since the visit of His Holiness the Dalai Lama to the region last year.
–Report filed by Liaison Office of His Holiness the Dalai Lama, Tokyo