Geneva: The 13th session of UN Human Rights Council has entered its third week in Geneva to address human rights violations happening around the globe. Members of Tibetan delegation have been monitoring and following this session. Tibetan delegates made two statements yesterday and one this morning raising issues on torture, religious freedom, disappearances and forced resettlement of nomads.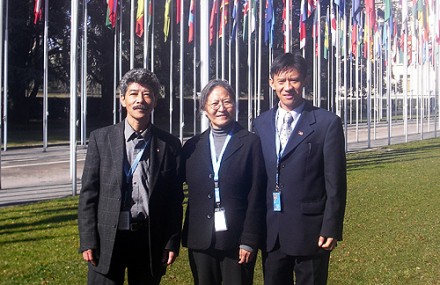 From left: Mr. Ngawang C. Drakmargyapon, Ms. Tsering Jampa and Mr. Tenzin Samphel Kayta
Mr. Tenzin Samphel KAYTA on behalf of Society for Threatened Peoples drew the Council's attention about Chinese government's repeatedly failure to provide a clear picture of situation on many Tibetan detainees who were subjected to routine torture and senseless beatings following the 2008 Uprisings. He said Chinese authorities even refuted the tortured victim's footage shown all over the world on Youtube website as fabricated. However, the original source fervently maintained its authenticity.
Despite the Special Rapporteur on Torture's recommendations to China following the fact-finding mission in 2005, China is still practising consistent patterns of torture against Tibetan detainees including monks and nuns, which emerged during the past two years with impunity.
In another statement, Mr. KAYTA said, Chinese authorities' brutal crackdown is still continuing in Tibet with thousands of Tibetans detained for their non-violent freedom struggle. He informed the Council that "On the 51st Anniversary of the Tibetan National Uprising of 10 March 1959, the Dalai Lama said that there is a serious problem in Tibet yet advocated "to enter into talks with the People's Republic of China to resolve the issue of Tibet through the Middle-Way Approach …" He further said that since 10 March 2008, Tibetan sources[1] document that 228 Tibetans have died under the crackdown, 1,294 injured, 4,657 arbitrarily detained, 371 sentenced with 990 disappeared. Four Tibetans were executed in Lhasa on 20 October 2009 (China confirmed only two). 11 Tibetans were sentenced to life imprisonment. In majority of the cases the defendants had no independent legal counsel and when a lawyer of choice represented the defendants, the authorities either blocked representations through intimidation or procedural grounds.
With regard to situation of religious freedom in Tibet, he referred to the 10th March statement of His Holiness the Dalai Lama who said "the Chinese authorities are conducting various political campaigns, including patriotic re-education campaign, in many monasteries in Tibet. They are putting the monks and nuns in prison-like conditions, depriving them the opportunity to study and practice in peace. These conditions make the monasteries function more like museums and are intended to deliberately annihilate Buddhism."
Recently a Chinese official reported on 4 March that the police raided a total of 4,115 rented accommodations …more than 70 guest houses, internet cafes, entertainment Center and bars detaining "a total of 435 people." Moreover, a few foreign journalists who were invited by the government during the period witnessed Chinese security forces with automatic rifles patrolling the streets of Lhasa.
Since Beijing claims the situation is "normal" on the Tibetan Plateau, he asked, "Why these severe crackdowns upon the Tibetan people by Chinese authorities. He urged the Chinese authorities to fully implement the recommendations of the Special Rapporteur and also that of the Committee against Torture and Committee on Elimination of All Forms of Racial Discrimination and provide a credible clarification on the use of torture against Tibetan detainees who today number in thousands. He also urged the Chinese authorities to fulfil its pledge by receiving the UN High Commissioner for Human Rights to conduct an independent mission to all affected Tibetan areas and Xinjiang.
Today Mrs. Tsering Jampa on behalf of Helsinki Foundation for Human Rights drew the Council's attention about China's failure to respond positively to the Press Statement of 10 April 2008 issued by seven the UN Special Procedures mandate holders calling for visit to Tibetan Autonomous Region. Concerning disappearance cases, she said the UN Working Group on Enforced or Involuntary Disappearances's report indicated 28 unresolved cases with China including Gedhun Choekyi Nyima, XIth Panchen Lama of Tibet who disappeared at the age of 6 since May 1995. She said since 1997, China failed to provide document as requested by the WGEID to support China's eclaim that Gedhun Choekyi Nyima and his family wished not be disturbed by outsiders. Similarly, China also ignored call by the UN Committee on Rights of the Child that independent expert be allowed to visit the Panchen Lama to confirm his well-being". She also informed that the Council that Gedhun Choekyi Nyima is turning 21 next month. Thus, she urged Chinese authorities to provide full evidence to support its claim including the recent remarks by Chinese official saying "Gedhun Choekyi Nyima is living in Tibet". She brought to attention of the Council that Chinese government is implementing the resettlement policy which forcibly relocates thousands of Tibetan nomads from its ancestral land without consent of the Tibetan people. As this misguided policy wipes out the nomadic way of Tibetan people's life, she urged Chinese government to immediately impose a moratorium on all resettlement programmes until independent experts carry out a review of policies that require or produce displacement and resettlement of Tibetan herders and other rural Tibetan population in all Tibetan areas.
Chinese delegation in the plenary session made rhetoric statement by saying that Tibet witnessed the growth of 12.3% GDP and respecting rights of ethnic minorities.
Helsinki Foundation for Human Rights welcomed China's announcement at this Council session that the Chinese authorities will receive the Special Rapporteur on the right to Food for an official mission which we hope will include visits to Tibet, Xinjiang and Inner Mongolia. The statement said: "But we do recall that China failed to fulfil its pledge made at the UPR of China that it will receive one Special Procedure mandate-holder in 2009 and this reminds us that while having invited the Special Rapporteur on the freedom of religion or belief in 2004, China refused to confirm dates when requested by the Special Rapporteur."
Despite limited time slot officially allocated for NGOs, Tibetan delegates were able to raise some of the key human rights issues of our concern at this session.