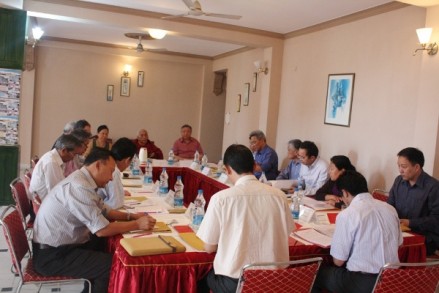 The Task Force on Sino-Tibetan Dialogue convenes its 21st meeting in Dharamsala, India, from 23 - 25 March 2010/Photo:Sangay Kyap/TibetNet
Dharamshala
: Kalon Tripa Prof Samdong Rinpoche is presiding over the 21st meeting of the Task Force on Sino-Tibetan dialogue process which began this morning in Dharamsala. The three-day meeting will conclude on 25 March.
The meeting takes place after ninth session of the XIV Tibetan Parliament in Exile (TPIE) unanimously reaffirmed its support for His Holiness the Dalai Lama's Middle-Way Approach to find a mutually acceptable solution for Tibet within the framework of the Chinese Constitution.
The Task Force was established in 1999 under the supervision of Kashag to assist the envoys of His Holiness and members of the Tibetan delegation in the dialogue process with the Chinese government.
The last meeting was held prior to the ninth round of dialogue between the envoys of His Holiness the Dalai Lama and the Chinese leadership in Beijing from 26 – 31 January 2010.