Melbourne, Australia – Sunday, 23rd March, 2008
Yesterday, the Tibetan Community of Victoria organized a peace march for Tibet from the Victorian Parliament to the Chinese consulate. The Tibetan Community and their Australian friends walked in protest against the Tibetan people who have been killed, tortured and suppressed in Tibet by the Communist regime in Beijing, simply because the Tibetans expressed their desire for cultural and religious freedom.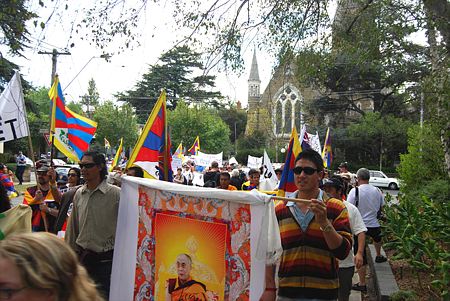 The peaceful march was joined by around 200 Tibetans, monks, nuns and Tibetan supporters. The protesters appealed to the Australian Government & international bodies to send a fact finding delegation to find out what exactly is happening in Tibet. They also appealed for medical aid for the Tibetan people who are injured, wounded and dying as the Tibetans have no access to medical care unless they surrender themselves to the brutal Chinese regime.
Regards
Thupten Dhondup (61-0417 560 562 or 61-3-9372 6746)
President, Tibetan Community of Victoria