DHARAMSHALA: The deputy speaker of Tibetan Parliament-in-Exile today released 'Tibetan Spirit Cannot Be Crushed', a pictorial book authored by Ven. Bhagdro, a former Tibetan political prisoner living in Dharamsala.
The book documents Tibet as a nation with 3000 years of history, China's systematic assault on Tibetan people and their religion, culture, language, environment, and the indomitable spirit and courage of Tibetans to restore freedom in their homeland.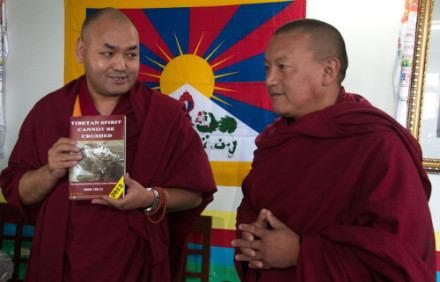 Speaking at the book launch, Deputy Speaker Khenpo Sonam Tenphel commended the efforts made by Ven Bhagdro in raising more awareness about the issue of Tibet.
He said Ven. Bhagdro has painstakingly compiled various rare photos of Tibet over the years and published them into a book. This book will help disseminate more information about the critical situation inside Tibet, he said.
In the forward, Sikyong Dr Lobsang Sangay said the book elucidates Tibet's history through pictures. It gives the faculty of sight and jugdment to the readers in understanding Tibet.
"I hope this book and the personal account of his story will shed light on the prevailing situation in Tibet and the need for a peaceful resolution through dialogue," Sikyong said.
Ven. Bhagdro, a monk of Gaden monastery in Tibet, was arrested for taking part in a major protest in the capital Lhasa against the Chinese rule in 1988. He was sent to Drapchi prison for nearly three years during which he underwent unimaginable torture. In 1991, he fled to India to tell the suffering s that his fellow Tibetans are facing under the Chinese occupation.
After coming into exile, he has travelled to over 30 countries speaking for Tibetans inside Tibet.