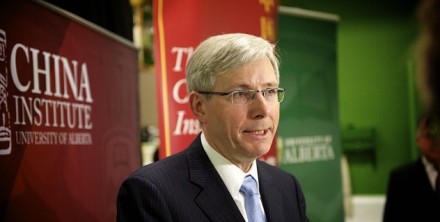 DHARAMSHALA: Canada's Ambassador to China raised concerns on the situation in Tibet during his recent visit to Tibet, foreign minister John Baird said on Thursday, underscoring that Canada has consistently called for an end to the prosecution and persecution of people for the practice of their religious beliefs.
Ambassador Guy Saint-Jacques' visit to Tibet from 24-29 September came against the backdrop of a wave of tragic self-immolations by over 121 Tibetans to protest against the Chinese government's policies of political repression, economic marginalization, environmental destruction, cultural assimilation and denial of religious freedom in Tibet. In February this year, Tibetan political leader Dr Lobsang Sangay urged the Canadian ambassador to visit Tibet to investigate religious repression and causes which are pushing Tibetans to resort to drastic forms of protest, including self-immolations. The Tibetan political leader also testified before the Subcommittee on International Human Rights of the Canadian Parliament on the deteriorating situation in Tibet on 26 February. (Call to help Tibetans puts pressure on Canada's new religion envoy)
Ambassador Saint-Jacques met with provincial and local officials to discuss developments in Tibet, including the human and religious rights situation, during his visit to Lhasa and Shigatse prefecture in the Tibet Autonomous Region.
In Shigatse, Ambassador Saint-Jacques visited a bakery run by the non-governmental organization Braille Without Borders in collaboration with the Tibet Disabled People's Federation, which was built with support from the Canada Fund for Local Initiatives and provides training to young Tibetans who are blind or visually impaired. He met monks at the Jokhang Temple, as well as the Tashilhunpo and Sera monasteries and Potala Palace.
"Canada's Ambassador to China recently had the opportunity to visit Tibet and raise concerns directly with officials," foreign minister John Baird said during the third Annual John Diefenbaker Defender of Human Rights and Freedom Award ceremony in Vancouver on Thursday (31 Oct). Diefenbaker, Canada's 13th prime minister and known by many as "Dief the Chief", had tirelessly championed human rights in Canada and around the world during his six years in office.
"I certainly know that Canada's 22nd prime minister, Stephen Harper, is absolutely committed to protecting and promoting human rights at home and abroad. Human rights, freedom, democracy and the rule of law are core Canadian values that this government is proud to uphold and celebrate," Mr Baird said.
Amid tragic self-immolations by Tibetans to protest against the Chinese government's continued occupation of Tibet, Canada joined the world governments and parliaments urging the Chinese government to find a lasting solution to the problems in Tibet through dialogue.
"Canada encourages China to give full consideration to the traditions and culture of the Tibetan population in a manner that will help ease tensions. We call on China to lift restrictions on access to the affected areas for the diplomats, media and other observers. We urge China to engage in substantive and meaningful dialogue with the Dalai Lama or his representatives in working toward a peaceful resolution of outstanding issues that is acceptable to both sides," Foreign Minister John Baird said last December 2012. (Canada Urges China for Meaningful Dialogue to Solve Tibet Issue)
This was Ambassador Saint-Jacques's first trip to Tibet. The previous visit to Tibet by a Canadian ambassador was in October 2011.
(Click here to read CTA's White Paper on self-immolations in Tibet)