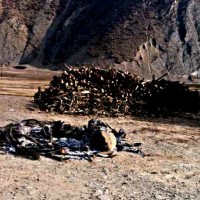 DHARAMSHALA: Reports coming out of Tibet say a Tibetan man has set himself on fire to protest the Chinese rule in Tibet, taking the total self-immolations to 111.
Lhamo Kyab, 43, set himself on fire in Sangchu county (Ch:Xiahe) in Kanlho in north-eastern Tibet (incorporated into China's Gansu Province) Monday (25 March). Local Tibetans later found his last remains at the protest site. After the news of his immolation spread, Chinese police and security officials arrived at the site. Movements of local Tibetans have been restricted after the incident.
Lhamo Kyab hails from Kyitsang Meshul township in Kanlho. He was working as a forest officer.
The China director of Human Rights Watch on 25 March said Beijing must address its failed policies in Tibet to stop Tibetans from burning themselves to death.
"There is precious little evidence that Beijing is addressing the reasons articulated for the immolations – a desire for religious freedom, for independence or autonomy, for the return of the Dalai Lama among others. Nor is there any discernible sign of redress for Tibetans, as there has occasionally been for others in China who have self-immolated over issues like evictions or land disputes," said Sophie Richardson, the China director at the Human Rights Watch.
"The willful refusal to see Tibetans as people who want to live a different way and have every right to do so – not as insurgents, criminals or separatists – is ultimately self-defeating. If Beijing wants to stop Tibetan 'innocents' from immolating, it must reverse course and loosen up – not batten down," Richardson said.