March 25, 2013 9:58 am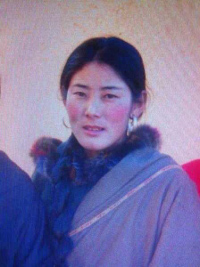 DHARAMSHALA: A Tibetan mother of four young children has burnt herself to death in self-immolation protest against the Chinese rule in Ngaba in eastern Tibet.
Kalkyi, 30, set herself on fire near the main gate of Jonang Monastery at Dzamthang in Ngaba, around 3:30 pm Sunday. She died on the spot. The local Tibetans took the body inside the monastery and offered prayers.
The authorities had warned to take the body by force if the local Tibetans do not cremate it before midnight. Over 4,000 Tibetans, including monks of Jonang Monastery, had gathered to express solidarity with the deceased.
Kalkyi is a native of Barba village in Dzamthang. She is survived by her husband and four children.
This incident has pushed the total number of self-immolations to 110 including 14 this year, out of which 92 died. (View fact-sheet) The universal call of self-immolators are freedom for Tibetans and the return of His Holiness the Dalai Lama to Tibet.
The Central Tibetan Administration has consistently appealed to Tibetans not to resort to drastic actions, including self-immolation.