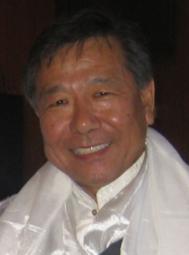 Unsung Hero of Compassion - Dorjee Dadul
On 26 April in California His Holiness the Dalai Lama presented 49 individuals from 13 countries with an "Unsung Hero of Compassion" award. Dorjee Dadul, a long-term resident of Sydney's Northern Beaches, was among the recipients.
Dorjee has been recognised twice by the Australian Government for his contribution to the Sydney's Tibetan community and to the broader Australian community: In 2007 he was named Warringah Council's Citizen of the Year. Also that year he received the Most Commended Volunteer Award from the New South Wales Community Relations Commission.
"These individuals have been selected as representatives of the tens of thousands of people worldwide who quietly serve the disenfranchised and work to improve our communities through their personal efforts," said Dick Grace, Chair of Wisdom in Action, who hosted the celebration. "We don't see them or hear about them in the daily news, but they exemplify a humanism and heroism to which we must each aspire."
Among other things, Dorjee has worked tirelessly both to preserve Tibetan culture within Australia's exiled Tibetan community and to promote Tibetan culture to the wider Australian community. Dorjee teaches Tibetan language, culture and customs to young Tibetans as well as running Tibetan language classes for Australians.
The Unsung Hero of Compassion award was also presented to Thuten Kesang, President of the New Zealand Tibetan community. Thuten recently spent his Easter break in Dee Why on Sydney's Northern Beaches, at the fourth annual gathering of Tibetans from Australia and New Zealand.
The other recipients, 25 women and 24 men, ranged in age from 12 to 77 and came from a variety of ethnicities, cultures and religious backgrounds.