Thuten Kesang of New Zealand received "Unsung Heroes of Compassion Award" on 26 April 2009 in California, USA, the award which has been presented to 49 individuals from 13 countries by His Holiness the Dalai Lama.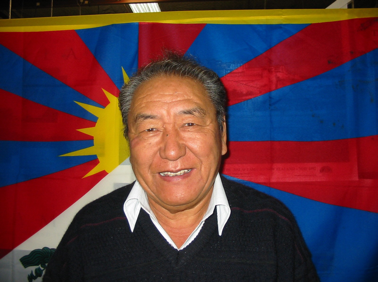 Unsung Heroes of Compassion - Thuten Kesang
Mr. Thuten Kesang is the first Tibetan to arrive and settled in New Zealand in 1967. Since then he is passionate about helping his fellow Tibetan refugees. For him, in fact, it is a moral imperative. Equally important, however, is that aiding others is his way of returning a stranger's long-ago kindness.
Eager to see him well educated, Thuten's parents sent him at age of eleven from his home in Lhasa Tibet, to board at Dr Graham's Homes, a school in Kalimpong, India. One of India's finest schools, Dr. Graham's Homes was established in 1900 to educate, Anglo-Indian children, and Thuten was one of the few Tibetan children enrolled. Four years later, however, he learned that his parents had been arrested in the 1959 Chinese occupation of Tibet and that he had become a refugee. With no money to pay tuition and no family to return home to, Thuten's prospect looked dire. Then, one day, he met Robert Crow, a Scottish board member of Dr. Graham's Homes who lived in India and offered to pay Thuten's tuition and boarding fees. "That precise moment," Thuten says, "I decided that I would do my best to repay his kindness by helping others in need when I was in a position to do so."
In Time, Thuten learned that his mother had starved to death in Tibet, and his father had perished in Chinese prison. "What happened to my parents was terrible, but not unique," Thuten says. "I will never forget the kindness shown to me by Robert Crow at that time."
Crow helped Thuten again in 1962, this time securing him a position as a printer's apprentice in Calcutta, India, and supporting him for three years while he learned a trade. Today, Thuten owns his own printing business in Auckland, New Zealand, where he works to fulfil his promise to return the generosity he received as a child. "I have never hesitated to help someone in need," he says adding that he expects nothing in return.
Thuten's first opportunity to give back came when he learned that young refugee living at the Tibetan Children's Village in Dharamsala, India, a school established in 1960 by His Holiness the Dalai Lama and his sister Tsering Dolma Takla, needed financial support. Thuten offered to sponsor a child, and soon thereafter became treasurer of the Tibetan Children Relief Society of New Zealand, a grass-root organization dedicated to raising funds to sponsor children at Tibetan Children's Village. "The first orphan I sponsored went on to receive his doctorate in medicine," Thuten says, noting that the former orphan is now a physician in India. Today the Tibetan Children Relief Society sponsors the education of four hundred and fifty students at two schools in India, and Thuten recently marked his forty-second year as treasurer.
Thuten also serves as the honorary secretary and treasurer of Dr. Graham's Homes New Zealand committee, an international committee established to match individual children at Thuten's alma mater with financial sponsors in New Zealand. It is important to Thuten that in addition to providing money for student's education, each sponsor corresponds with the child he supports. "I know from personal experience how much it means to meet the person blessing you with his generosity," he says.
Inspired by a passion to help and an awareness that the need for aid to Tibetan children far surpasses available resources, Thuten founded and became the national chairman of Friends of Tibet (New Zealand), an organization that educates New Zealanders about the plight of the Tibetans raises funds to educate exiled Tibetans children in India, and provides support to ex-political prisoners who have escaped from Tibet to India. He has also served as president of the Auckland Multicultural Society.
The diaspora and hardship of people sadden Thuten but they also inspire him to do even more. "I don't dwell on the bad, "he says. " I look at the bright side of life and get on with it, the important thing is to have a good heart."