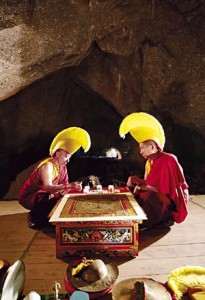 Tibetan monks from an Indian monastery attend a gong music festival in Spain. Photo: Reuters
CHINA is planning a sweeping purge of Tibetan monasteries, including banning all worship at those it deems to be centres of subversion.
Monks with "attitude problems", or those who refuse to change their thinking in line with official demands, will be dismissed or jailed. Abbots and other leaders who fail to carry out Government orders to "re-educate" their charges will be replaced by appointees.
The orders are contained in an official document posted on the Government's Tibet information website. They refer to Kandze, a prefecture of Sichuan province populated largely by Tibetans, where some of the most violent clashes between monks and security forces took place this year. The website provides the most detailed picture yet of an official campaign against monks involved in the protests that erupted in March.
The document, signed by Li Changping, the prefecture head, records decisions made by the local Communist Party executive committee. The targets are "monasteries, monks and nuns who voice or distribute splittist slogans and flyers, fly snow lion flags [Tibetan national flags], and who take part in illegal demonstrations to incite splittism".
Even monks who committed minor crimes will be sent home for "re-education", reads the document. More serious offenders will be jailed until they recant, while those with "serious crime and attitude problems" will be dismissed from their monasteries. Masterminds of "splittist" activity will be subjected to the full force of the law. If they find shelter at another monastery, its management committee "will be considered a supporter and protector of splittists and disruptive elements".
The inclusion of this threat suggests the Government may be having difficulty controlling its own appointees in monasteries.
The most drastic action, however, is promised against monasteries where a substantial percentage of monks were involved in the protests. "All religious activities at the monasteries will be halted," the document says. "Movements of monks will be closely monitored."
All monks or nuns at these monasteries will have to re-register". Those who fail loyalty tests will be dismissed.
Telegraph, London
SMH | Link