DHARAMSHALA: The annual 'Festival of Tibet', held in Brisbane from 3 – 5 February, showcased Tibet's cultural heritage and highlighted pressing issues of political and environmental conditions inside Tibet.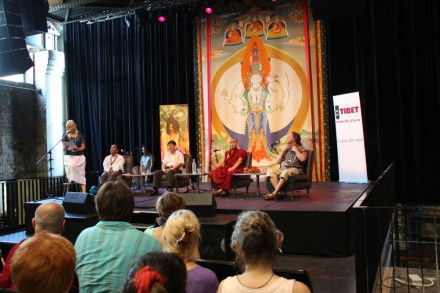 Representative Sonam N Dagpo (3rd R) with Mr Tenzin Norbu, Head of Environment and Development Desk of the
The event featured photo exhibition, films, panel discussions and talks, meditation and concerts. The proceeds from the "Tibet: Awakened Heart Concert", featuring Tenzin Choegyal, Taro Terahara, Female Tibetan singer Jamyang Dolma, will go to towards the flood relief in Queensland, the organisers said.
The organisers of the festival, led by Mr Tenzin Choegyal, brought together at the event noted personalities such as diplomats, educationalist, environmentalist, musicians, artists and journalists.
Kalon Tempa Tsering, Representative of His Holiness the Dalai Lama and Kasur Jetsun Pema, famously known as "Mother of Tibet" for her commitment to Tibetan children's education were the honourary guest speakers at the festival.
Kalon Tempa Tsering spoke on the topic "Why Tibet Matters?". He gave a brief, yet detail accounts on the various issues related to the basic human right violations, Chinese population transfers, environmental concerns and developmental activities inside Tibet.
Ama Jetsun Pema mainly talked about how the education has evolved and developed in the Tibetan Children's Village Schools, starting from 51 students in early 1960s to the current enrolment of more than 12,000 students.
The festival featured a panel discussion ongoing dialogue process between envoys of His Holiness the Dalai Lama and the Chinese leadership towards resolving the issue of Tibet. The panel discussion was chaired by Ms Kaye Hanschen, Chair of the Australian Tibet Council and Mr Sonam Norbu Dagpo, Representative of His Holiness the Dalai Lama and Mr Tenzin Norbu, head of the Environment and Development Desk of the Central Tibetan Administration were the panellists.
In another panel discussion on 'The Art of Healing', Geshe Lobsang Jamyang blessed the audience about the essence of Buddhism and his personal experience during his visit to Tibet.
"The Visi theatre was packed with enthusiastic audience during both the panel discussions," Mr Tenzin Norbu told TibetNet in a e-mail message.
"Starting from this 'Festival of Tibet' at Brisbane, the Tibet Information Office in Canberra and the Australia Tibet Council would jointly organise a series of talks and presentations related to Tibet's environment in major cities in Australia. This talk series was part of the programme to commemorate the 75th Birth Anniversary of His Holiness the Dalai Lama," Mr Norbu said.
Other highlights of the festival include workshops on Tibetan Thangka painting and meditation, photo exhibitions and documentary films on His Holiness the Dalai Lama among others.