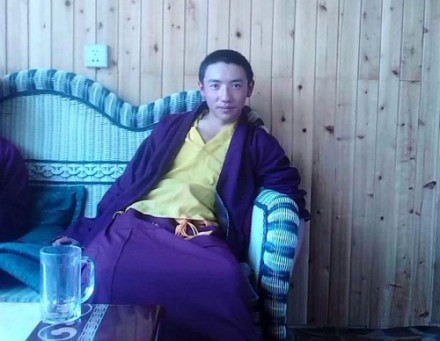 DHARAMSHALA:  Reports coming out of Tibet say a young Tibetan monk has set himself on fire in Golog Tibetan Autonomous Prefecture (incorporated into China's Qinghai province) on Monday (11 Nov) to protest against the repressive policies of the Chinese government in Tibet. He died when he was being taken to the hospital by Chinese authorities, confirmed reports say.
Tsering Gyal, a 20-year-old Tibetan monk from Akyong monastery, set himself on fire in Pema county in Golog around 6 pm Monday. The police and security forces immediately arrived at the protest site and doused the fire. They took him to the county hospital and barred local people and fellow monks from Akyong monastery from visiting him.
"He did it for the freedom of six million Tibetans and to highlight the need to re-install His Holiness the Dalai Lama to his golden throne," the Radio Free Asia quoted a source as saying. "He called on the Tibetans to rise up now."
Tsering Gyal, son of Sherphun and Rindon, is the youngest of eight children.
Since 2009, over 122 Tibetans have set themselves on fire inside Tibet in protest against the Chinese government. The self-immolators have called for the return of His Holiness the Dalai lama to Tibet and freedom for Tibetans.