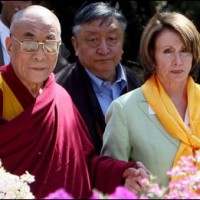 In this file photo His Holiness the Dalai Lama (L) welcomes US House of Representatives Speaker Nancy Pelosi (R) as she arrives at his Palace Temple in Dharamsala on 21 March 2008/AFP
Dharamshala: US House of Representatives Speaker Nancy Pelosi and a bipartisan congressional delegation took up the issue of human rights situation in Tibet during their meetings with three top leaders of the Chinese government: President Hu Jintao, Premier Wen Jiabao, and Wu Bangguo, the Chairman of the National People's Congress.
"Our delegation also emphasized the bipartisan concern in Congress on China's poor record on human rights in China and Tibet," Pelosi said after meeting with the Chinese leadership in Beijing on Thursday.
"Republicans and Democrats are united in our concern about human rights abuses in China and Tibet," said Congressman James Sensenbrenner, Republican of Wisconsin.
Earlier in the day, the congressional delegation participated in a two-hour working session with the Chinese National People's Congress' Environmental Protection and Resources Conservation Committee.
In addition to Pelosi, Sensenbrenner, and Markey, the other members of the congressional delegation traveling to China this week, all experts on issues related to clean energy and the environment, are Congressman Earl Blumenauer, Democrat of Oregon; Congressman Jay Inslee, Democrat of Washington state; and Congresswoman Jackie Speier, Democrat of California.
"We had productive discussions about how the United States and China can cooperate on improving international security, growing our economies and protecting the environment," Pelosi said. "We urged the Chinese leaders to use their influence to help bring North Korea to the table for Six- Party Talks. On clean energy and climate change, both sides agreed to work together to confront the urgent challenge we face. "
Last year in April, Speaker Nancy Pelosi and the members of US Congressional delegation introduced House Resolution calling on the Government of the People's Republic of China to end its crackdown on nonviolent Tibetan protestors and its continuing cultural, religious, economic, and linguistic repression inside Tibet.
Following the Chinese government's crackdown on Tibetan protesters in Tibet in March 2008, the US Congressional delegation, headed by speaker Pelosi, visited Dharamsala to express their concern and solidarity with the Tibetan people.
The resolution calls on the Chinese Government to begin a results-based dialogue, without preconditions, directly with His Holiness the Dalai Lama to address the legitimate grievances of the Tibetan people and provide for a long-term solution that respects the human rights and dignity of every Tibetan.
It calls on the Chinese Government to allow independent international monitors and journalists, free and unfettered access to the Tibet Autonomous Region and all other Tibetan areas of China for the purpose of monitoring and documenting events surrounding the Tibetan protests and to verify that individuals injured receive adequate medical care.
It further calls on the Chinese Government to immediately release all Tibetans who are imprisoned for nonviolently expressing opposition to Chinese Government policies in Tibet.