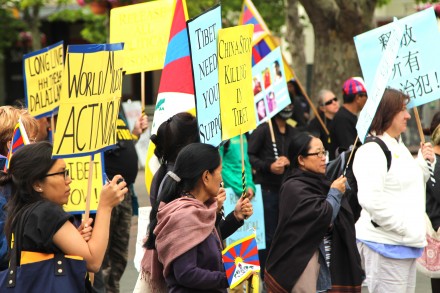 CANBERRA: Tibetans and Tibet supporters on Monday gathered in the city centre of Canberra, Australia, in solidarity with the Tibetans inside Tibet as well as to raise awareness regarding the current wave of self-immolations in Tibet.
Mr Sonam Dagpo, Representative of His Holiness the Dalai Lama, spoke on the present human rights situation in Tibet including the self-immolation of 95 Tibetans since 2009.
Prof. John Powers from the Australian National University, who told of his personal account of his recent visit to Tibet and observed the heavy militarisation of Tibet.
Mr Fang Yuan, Chairman of the Chinese Labour party, expressed hope that the new Chinese leader Xi Jiping would be open-minded like his father who befriend His Holiness the Dalai Lama. He was optimistic that His Holiness the Dalai Lama would be able to return to Tibet and there would be no more Tibetans in exile and self-immolations.
Tibetans and supporters raised slogans and rallied from the city centre towards the Chinese embassy, where prayers were said for the self-immolators and their families and slogans were raised against the repressive actions of the Chinese government against the Tibetans.
The Tibetan community of Canberra sent memoranda to the UN Secretary General Ban ki-moon and the Australian Prime Minister Julia Gillard.